St. Elizabeth Church Ucassaim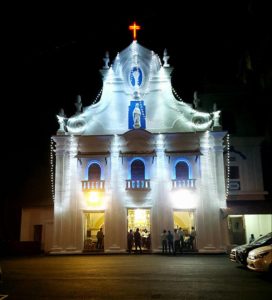 St Elizabeth Church Ucassaim is a 16th-century old church located in the Bardez taluka of Goa. Just a few kilometer's drives away from Mapusa, The church is dedicated to St Elizabeth of Portugal. This is one of the only churches in Goa dedicated to this saint.

The Church has witnessed a series of renovations since the first structure in the 16th Century. The foundation of the church was laid by the Franciscans which was destroyed by a storm. The church was rebuilt in 1708. The Major works were completed by the 18th century. One of the exterior side walls of the church has the year 1814 which signifies this completion of the works.

The Patron feast is celebrated on the first Sunday of July. Presently the parish has approx. 2000 – 3000 parishioners. The parish has various active groups which carry out services during the week. The Groups that constitute the parish are The PPC, Fabrica, Confraria, Parish youth group, Catechist, Legion of Mary, St. Vincent de Paul, Church Choir, Altar servers. There are Eight wards that form the parish : Paliem Nogueira, Dumpem, Punola, Church waddo, St. Anthony, Bela Flor, Pello Vaddo.
The Present Parish Priest is Fr. Agnelo Mendes.